Members » Courses
Stonewolf Golf Club
Fairview Heights, IL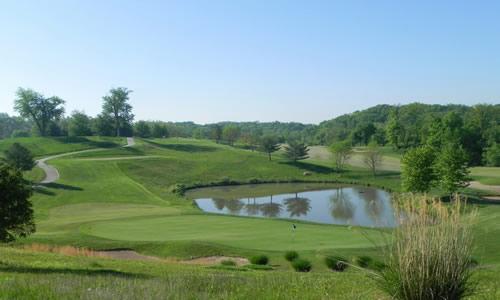 When the name Jack Nicklaus is associated with your golf course, it cannot help but be upper echelon. And when you are lucky enough (as we are here at Stonewolf Golf Club) to feature a Jack Nicklaus Signature Design course, you are among the best facilities in the nation.
The "Signature" designation means that Mr. Nicklaus himself, "The Golden Bear," trod the course, played a hand in the design, the shaping – every facet of this jewel.
He did not fax this one in! Stonewolf is just the fourth public access course in the United States designed by Nicklaus. This is one of only four Jack Nicklaus Signature courses in Illinois and Missouri!
How does it play? Very well, thank you! Along with the Jack Nicklaus name, you get Jack Nicklaus golf. Fun and fair on a picturesque, well-designed course. And yet the course offers challenge, with five sets of tees that allow you to play it as easy or hard as you want.
Click on the hole numbers below to see individual hole information.
Hole
1
2
3
4
5
6
7
8
9
Total

Black

433
184
323
401
511
202
368
562
447
3431

Gold

401
165
310
385
488
184
341
535
424
3233

Blue

362
145
297
360
464
165
320
507
395
3015

White

350
128
285
342
443
146
301
477
335
2807

Red

303
105
102
324
401
113
264
424
311
2347
Par
4
3
4
4
5
3
4
5
4
36
Hole
10
11
12
13
14
15
16
17
18
Total

Black

415
344
595
200
455
519
380
158
446
3512

Gold

394
314
567
184
435
496
360
146
424
3320

Blue

378
281
542
174
407
484
342
129
403
3140

White

354
271
532
164
377
467
314
116
359
2954

Red

264
248
463
145
293
392
285
93
319
2502
Par
4
4
5
3
4
5
4
3
4
36